The Long gone Smiles Band - The Swedish Champions in Pure Country 2007 - is a six artists group.
This is The Band that can guarantee "A Traditional Country Music Show" in the true old powerful style
of the Golden Era of Country Music.
They will happily serve you from a menu of real country music including:

Hank Williams
Jimmie Rodgers
Lefty Frizzell
Kitty Wells
Ray Price
Carter Family
Hank Thompson
Carl Smith

Powerful Harmony Singing
Blue Yodels
Mother Songs
Religious Songs
Love and Cheatin' Songs
Railroad Songs
Honky Tonk Music
Drinkín' Songs
Bluegrass Songs
Classic Instrumental Hits


Plus the Original Brand New Songs of the Long gone Smiles Band in the Style of The Great Past

Power Fiddle, Twins Fiddles, Dobro, National Hawaiian Guitar, Vintage Lapsteel, Electric Guitar
Mandolins, Acoustic Guitars, Harmonica, Accordeon, Cajun Accordeon, Five String Banjo, Harmonica,
and Bouncin' Upright Bass
And in between the Songs this band will serve you Interesting, Sad and Happy, and even
Amazing Stories about the Traditonal American Country Music, its History and its Greatest Artists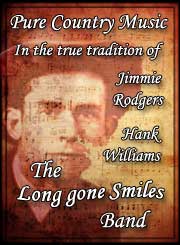 LGSB - 100% pure country as it used to be!
Don't hesitate - have a time - just book 'em?